You may already know that using Discussions greatly decreases the amount of internal email in your inbox. And that when it comes to communication and collaboration, Discussions has been designed to be an even better solution than email. Likewise, you might also be aware of the many different ways you can utilize Discussions beyond one-to-one messaging and group chats.

But what you may not know is that the Discussions view has gone through a number of changes in the past year, including the addition of some great new features that have really helped take it to the next level.

So let's take a look at some of the new and exciting things you can now do within your Discussions, thanks to these following powerful perks.
Create a task
This feature allows you to create a task directly from a comment in Discussions. When you click on the action menu and select "Create task from comment", a new task form will open and its Description field will automatically be populated with the comment itself. No copy-pasting or rewriting required!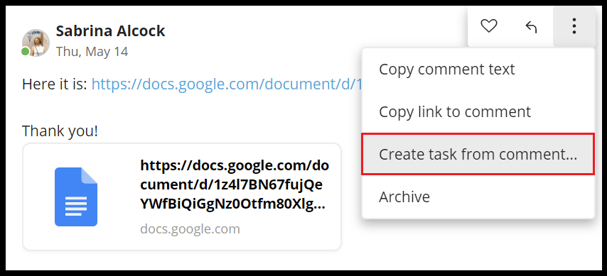 All you need to do is add a title, collaborators, any additional info, and then save your task. The best thing though, is that the task collaborators will all see a "Relates to" link on the form that takes them right to the Discussion where the task originated.
It's easy, convenient, and an all-around time-saver.
Replies
One of the unfortunate things about being in a group Discussion is when you go to reply to someone's comment, you may find that by the time you post it, that comment has scrolled up, up, and away into the timeline. This leaves you with a posted comment that either looks out-of-context or is mistakenly thought to be a reply to the most recent comment, not the one you intended.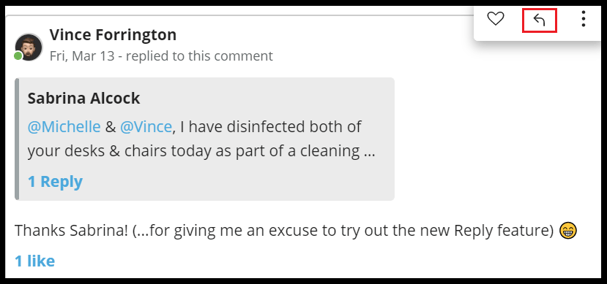 Using the reply-to feature minimizes these muddled messages and saves people from scrolling back-and-forth for context. By simply using the "Click to reply" arrow on a comment, it will populate your comment with a context box and link back to that comment. And if multiple people make post replies to the same comment, you can review them all by clicking on the "<number> replies" link. Easy and organized, it's another welcome, time-saving addition to Discussions.
Link/attachment previews
How many times have you had a colleague send you a link without any context? Do you dread clicking on it, knowing the likelihood that it'll be yet another inane cat GIF or uninteresting blog article? Well, you no longer have to worry, because Discussions now offers previews for links and attachments!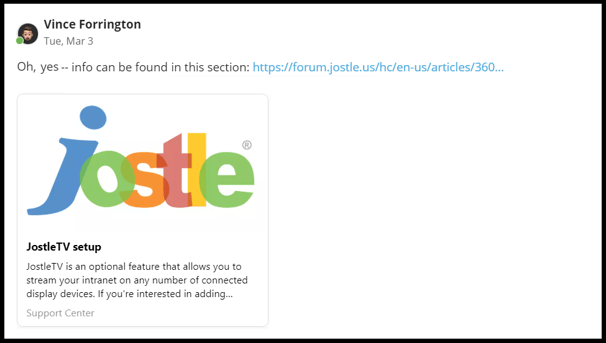 With link and attachment previews, you're able to tell at-a-glance if you're being sent something work-related, something you can take a look at later, or something you have no desire to further explore. Previews keep you informed about what's being sent to you without requiring you to click on a single link.
Upload improvements
Speaking of attachments, did you know that there have been some recent improvements on the uploading side of things as well? For one thing, the process for uploading large files is now much quicker. AND you no longer need to wait for the upload to be completed before moving on. You can post a comment while a file is still being attached and then check in on another conversation or navigate to another view without canceling the upload.
And that's not all! Adding images has also become quicker and easier, as you can now paste an image from your clipboard directly into the input field and it will automatically upload to your impending comment (perfect for when you want to quickly grab and share a screenshot).
Emoji keyboard
And finally, we come to the newest jewel in the Discussions crown. That's right, one of our most-requested features—an emoji keyboard—will be arriving in your desktop intranets next week (in the mobile app, Discussions already incorporates your device's native emoji keyboard).
With this addition, users will see an emoji icon in the comment input field (right next to the attachment icon), that pulls up an in-platform menu of emojis. This makes it quick and easy to slip one into your comment when words alone simply can't express what you're trying to say (or perhaps more importantly, to give a valuable visual cue to the tone of your message 😉). And emojis just help make everything a little brighter, which is something we can certainly use more of these days, right?
And there you have it, the latest features that have helped take Discussions to the next level. If you're not already using these features, you should definitely give them a try. And who knows? Maybe they'll be the key to taking your organization's use of Discussions to the next level as well!