Microsoft SharePoint is a popular platform. We've all heard of it, and may have even used it at some point in our careers. But is it actually any good, or is its continued popularity based on name recognition alone?
While it paved the way for employee engagement tools, SharePoint has several drawbacks. High implementation costs, complex and costly installations, and a lack of integrations with other applications are just a few of the issues users have with the platform.
As a result, many companies have turned to other cloud-based collaboration platforms as viable substitutes for SharePoint. These tools are equipped with features that make them more flexible and user-friendly options for businesses of all sizes.
Let's dive into 10 of the best Sharepoint alternatives today:
10 best SharePoint alternatives to consider
1. Jostle

Jostle is a platform that fosters connections, communication, and celebration among people. Jostle consolidates your entire organization in one place. This makes it easy for employees to understand what is important. They can quickly obtain information and assistance. They'll also be acknowledged at every stage of their journey. This results in a happy workforce, reduced turnover, and improved efficiency.
Our platform is the ideal destination for accomplishing tasks. You can delegate tasks, collaborate using popular apps like Google Workspace and Office 365, and keep tabs on who is working on specific projects at any moment. Coming together as a team has never been simpler.
Additionally, Jostle empowers employees to play an active role in shaping your company's culture by providing them with the necessary tools. Employees want to see values in action. Jostle enables them to do this by sharing stories, celebrating accomplishments, and uniting around a common goal.
Jostle fosters energizes your workplace by offering an interactive platform where users can easily access an employee directory, locate expertise within the organization, and participate in org chats to find resources or people they need—all contributing towards building a strong sense of community among team members.
In essence, this solution empowers businesses to enhance their internal communication strategies while promoting increased productivity across various departments.
Key features:
2. Culture Amp

With its focus on fostering exceptional workplace culture, Culture Amp is a cloud-based platform specifically designed to empower organizations in conducting employee surveys, analyzing valuable feedback, and closely monitoring performance metrics.
The platform is equipped with comprehensive tools for creating custom polls tailored to various organizational needs while also featuring automated reminders for survey deadlines – thus streamlining data collection processes effectively.
Companies utilizing Culture Amp can gain insightful data from their employees' opinions and leverage it to optimize overall work environment satisfaction.
Key features:
Create different kinds of employee surveys.
Track goals, feedback, and performance reviews.
Develop a planning workflow.
Integrates with Slack, HRIS, and Microsoft Teams.
3. Glasscubes

Glasscubes emerges as an ideal solution for small businesses seeking a collaboration tool that simplifies teamwork.
Offering task management capabilities paired with document-sharing options, this platform encourages online video conferencing among team members—bridging communication gaps even when working remotely or across different time zones.
Additionally, Glasscubes provides advanced search functionalities along with an integrated analytics dashboard—allowing users to quickly locate essential documents or conversations while monitoring project progress in real-time efficiently.
Key features:
Use instant chat, audio-video conferencing, and discussion boards for communication.
Share files and co-edit documents.
Plan projects, track milestones, and manage tasks.
4. Happeo

Happeo is a comprehensive intranet platform centralizing digital communication channels within organizations of all sizes.
It offers customizable templates suitable for every business requirement, which helps declutter workspace environments.
With its drag-and-drop design elements combined with integrations like Zoom or Microsoft Teams, Happeo ensures that employees remain connected.
The platform boasts several collaboration tools designed to keep teams organized and productive, regardless of their geographical location or departmental structure.
Key features:
Drag-and-drop functionality for building intranet pages.
Advanced analytics for search and engagement.
Supports third-party widgets and integrations like Google Drive and Zoom.
Create digital communities via channels.
5.Simpplr
Simpplr boosts internal communication efficiency and fosters a more connected work environment.
Offering a single, user-friendly interface for seamless collaboration and document sharing, the platform caters to organizations' specific needs through customizable environments tailored to suit various requirements.
With its straightforward set of features, Simpplr streamlines information flow and enhances overall team productivity.
Key features:
Provides an employee directory.
Allows users to build intranet pages and channels.
Integrates with Microsoft 365 and Google Workspace.
6. Confluence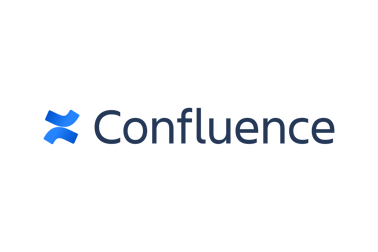 Confluence stands out as a powerful content management platform that centralizes documents, notes, images, task lists while providing essential tools for creating project plans—effectively optimizing team collaboration across different departments within an organization.
Its social media-style commenting system encourages team discussions on specific topics, promoting knowledge sharing and fostering innovation in the process.
Key features:
Seamless integration with other popular tools such as Jira, Slack, and Salesforce.
Easy content creation thanks to its drag-and-drop editor.
Robust search capabilities for finding the right information quickly.
Customizable access control settings that allow you to restrict or grant user permissions on specific resources.
7. Igloo

Igloo delivers cloud-based intranet solutions specifically designed to create and manage digital workspaces with ease while offering flexibility in customizing workspace layouts according to company requirements. With its intuitive drag-and-drop interface combined with various engagement-boosting tools like discussion boards or polls at your disposal—Igloo empowers businesses to optimize their workflow processes through tailored digital environments catering uniquely to their needs.
Key features:
Create knowledge libraries or wikis for easy reference.
Set up digital spaces for departments, clubs, or teams.
Supports integration with Dropbox, Slack, and Google.
Assign and track to-do lists.
8. Huddle

Huddle is an enterprise-grade platform designed for secure document sharing across desktop and mobile devices without sacrificing convenience or accessibility – ensuring optimal teamwork even when working remotely or navigating different time zones!
Providing real-time tracking of activities within the workspace, such as file creation, editing, task assignment, and comment sharing, along with comprehensive overviews; Huddle consistently maintains transparency and visibility among team members throughout every stage of a given project's lifecycle.
Key features:
Share files and collaborate on projects in a secure space.
Track project progress in real-time.
Integrate with popular applications.
Take advantage of comprehensive user activity overviews.
9. Google Workspace
Google Workspace offers a suite of versatile online collaboration tools such as Gmail for email communications and Google Calendar used in scheduling meetings, appointments, events, etc.
This platform boasts better integration compared to SharePoint's document management capabilities due to its user-friendly interface structure and easy navigation options.
The cohesive Google ecosystem streamlines work processes and allows for seamless collaboration among team members within one unified space.
Key features:
Use real-time collaboration tools.
Share and store files easily.
Enjoy a wide range of integrations.

Acting as a communication platform, Yammer provides users with access to discussion groups and enables information sharing among colleagues or industry partners – resulting in improved collaboration across multiple platforms.
Integrating seamlessly with applications such as Outlook and SharePoint; Yammer facilitates real-time conversations, file-sharing features alongside user profiles functionality including notifications and private messaging – ultimately boosting productivity by bridging communication gaps between remote teams diverse departments alike.
Key features:
Create private or public networks.
Share files and updates with colleagues.
Hold private conversations with team members.
Connect with other Microsoft applications for seamless collaboration.
Closing Thoughts
While SharePoint is well known, it's far from the best. Today, organizations are increasingly seeking alternative solutions that can accommodate their needs with better features and greater flexibility.
The 10 SharePoint alternatives we've explored above not only provide efficient solutions for document management, content sharing, and real-time collaboration with team members both inside and outside the company but also cater to specific organizational requirements by offering customizable work environments.
As companies continue to evolve in an ever-changing digital landscape, it is essential to remain agile and adaptable in order to stay competitive. By thoroughly evaluating their unique requirements and carefully considering each of these powerful alternatives, businesses can make informed decisions about which platform best aligns with their goals—ultimately leading to increased efficiency, streamlined communication channels, improved employee engagement levels while fostering innovation within the organization.