Vancouver, Canada (May 17, 2016) — Jostle Corporation is excited to announce the addition of a Twitter integration to its People Engagement® platform. This new feature makes it easy for organizations using the Jostle® intranet to rebroadcast their outbound corporate Twitter feed to their own employees via their internal intranet.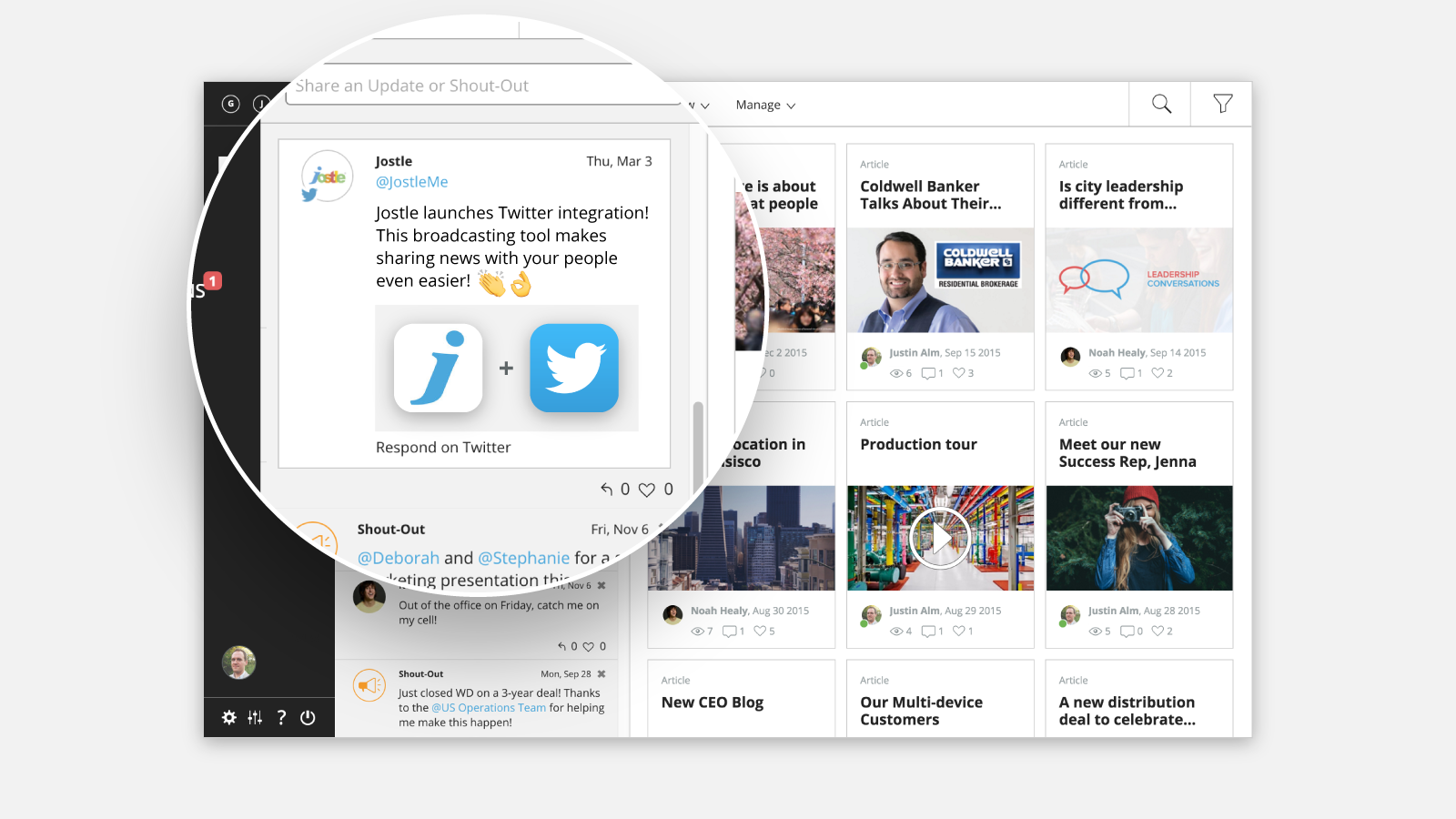 The new Twitter integration in action in the Jostle platform
The new Twitter integration means that whatever the company posts on Twitter will also appear in real-time in the organization's Jostle intranet Activity feed for the whole organization to see. "Most Jostle customers have over 85% of their employees participating on their intranet, making it an effective way to connect with their employees," commented Brad Palmer, Jostle's Cofounder and CEO. "This new Twitter integration simplifies the task of keeping employees abreast of typical corporate information shared via Twitter such as latest announcements, product updates, and customer celebrations."
"We love the new Twitter feed integration!"
Jon Pilon, IT Manager, Big Viking Games
Jostle intranets are strictly private, allowing employees to freely share information without any concern that some content might be exposed to customers or the public. Therefore, the new Twitter integration does not include the option to compose new tweets from within the Jostle platform.
The Twitter integration is a free option for all Jostle customers. If you are a Jostle customer and would like to initiate this feature, please contact success@jostle.me.
"LOVE the Twitter feed in our Jostle intranet. LOVE it!"
Christine McCormick, Director of Technology, Forest Hills School District
About Jostle Corporation
Jostle Corporation is on a quest to make workplaces happier and more productive with our radically better employee intranet. We help companies satisfy the five workplace needs: purpose, culture, clarity, recognition, and trust. Our elegant, work relevant approach is achieving participation rates that are 5X industry norms. See Jostle's intranet in action in this short video.
Media contact
Bev Attfield
Director, Tactical Marketing
604 700 1836 / bev@jostle.me / @JostleMe / www.jostle.me
Media kit
Don't miss the latest news from Jostle!