One of your intranet's most anticipated new features has just rolled out and I'm excited to be the one who gets to tell you all about it—so let's dig in!
Calls is here and it's going to change the way you communicate with your colleagues. How, you ask? Because no longer are Direct Messages your only option for one-on-one conversations. With Calls you can make audio calls, video calls, and even screen-share! And you can do it all without having to leave your intranet.
One of the best things about Calls is how simple it is to use (another best thing: there's no installation required). Here are the need-to-know details:
Requirements
To support Calls:
Your intranet must have Discussions enabled.
Your browser must be either Chrome or Firefox.
A System Admin needs to enable Video Calls in Administration settings > Platform > Enabled/Disabled Features
Access
Just like Direct Messages, Calls can be accessed from:
A user's Profile menu (via "Call")
A user's People popover menu (via "Call")
An existing Direct Message (via the telephone icon)

Initialization
Before your first call session can begin, you'll be prompted to do the following:
Allow Calls to access your camera and microphone.
Review your device's volume settings and video stream quality.
Connecting
After reviewing your settings you'll be able to click the "Start Call" button. This will then open a screen indicating who you're calling.
Meanwhile, your recipient will get a browser alert and/or an intranet alert of the incoming call (and if they have their volume turned on, they'll hear a ring tone as well). Once your recipient clicks "Accept" on the alert, that's it—your video chat will begin! And when you're done, either caller can click the red "X" in the corner of the screen to end your call. See? Simple!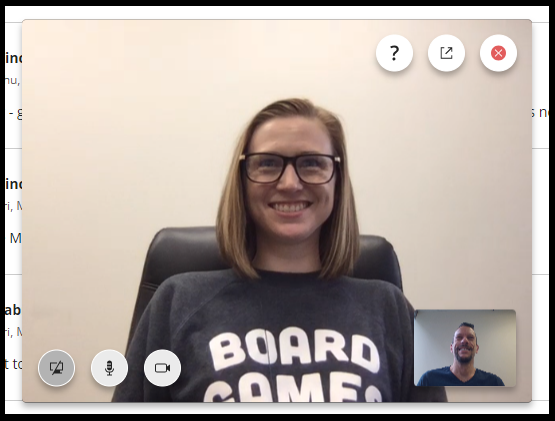 But wait, there's more!
Onscreen during your call you'll see other options that are available to you, like switching to an audio-only call or screen-sharing. To learn more about these features—or more about Calls in general—just head on over to our Support Center.
And then get yourself ready to make (or take) some calls!