Vancouver, Canada (March 29, 2016) — Jostle Corporation has taken enterprise search to the next level with the latest release of its employee intranet software. This powerful approach to enterprise search combines Jostle's patented People Search technology with comprehensive access to content across an organization.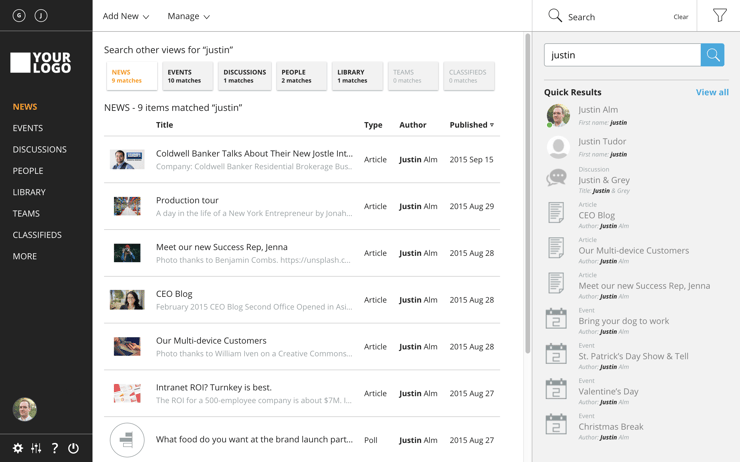 Jostle's powerful new Search technology in action
When an employee is looking for help in an organization, it might reside in the expertise of a person, a busy chat stream, a document written two years ago, or a working group focused on the topic. Jostle's Search looks for matches in all these places (people, teams, files, and instant messages), and then combines them into a simple, comprehensive search result. That's not an easy task, particularly when you factor in that the searcher may not have permissions to see all the teams, documents, and chats involved.
Jostle's comprehensive approach to enterprise search also delivers the value of incongruous search results — for example, you search for a policy and also discover a working group that's updating it. "Incongruous search greatly enhances discovery in an organization. It also provides context — you find content alongside the location, people, and teams that created it," commented Jostle's CEO and cofounder, Brad Palmer.
Jostle's elegant approach is particularly powerful when searching for people in an organization. Geoff Huenemann, co-inventor of Jostle's People Search, explains: "Searching for people is very different than searching for files. Sometimes you know their name, and need to find their role or location. Other times you're guessing the role and want to know where it fits into the overall organizational structure. Often you're looking for expertise, but have no idea where it lies. Even when you know the name, things can be tricky. It may well be a nickname, or you may not know how to spell it. Or you might be looking for a person you recognize, but don't know their name or exact title. Our extended People Search technology masters all of this."
Jostle has also fully integrated its search into its patented TEAMS® technology. This allows users to filter search results according to the real-time assignment of employees to roles, locations, teams, and working groups. It allows you, for example, to do a visual search for a sales person (role) in New York (location) whose name you have forgotten.
Jostle's improved search technology is fully integrated into its intranet platform. It has been released as a free upgrade to all existing customers.
About Jostle Corporation
Jostle Corporation is on a quest to make workplaces happier and more productive with our radically better employee intranet. We help companies nurture a vibrant culture, organized teamwork, engaged employees, celebrated contributions, and shared information. Our elegant, work relevant approach is achieving participation rates that are 5X industry norms. See Jostle's intranet in action in this short video.
Media contact
Bev Attfield
Director, Tactical Marketing
604 700 1836 / bev@jostle.me / @JostleMe / www.jostle.me
Media kit
Don't miss the latest news from Jostle!