So, you've done your homework. You've explored and chosen an intranet platform that will improve how your organization's people operate, communicate, and collaborate. Now it's time to launch your dynamic new tool. How do you generate buzz around the office? And how do you get people to use and adopt the new intranet for the long-term?
We're constantly inspired by the unique and inclusive launch activities that our customers plan and deploy – and the amazing engagement rates they earn. Recently, we celebrated this creativity in our Coolest Launch Asset category of Jostle Awards 2015. Our five Finalists in this category really let their colors shine with their creative launch events. We're talking branded candy, custom videos, cakes, games, and tattoos. Okay, we're kidding about the tattoos, but check out these amazing launch campaigns.
A heartwarming skit - Custom Communications
Challenge: Custom Communications were looking for a way for their people to get to know one another better and to keep their family-oriented company culture consistent throughout 80 different locations.
How they did it: They made a heartwarming, lighthearted skit video introducing the company to their new "family member", their Jostle® intranet.
The outcome: The video was met with overwhelming enthusiasm and they've since used the same video strategy to keep employees current on major promotions and opportunities around the organization.
Funny spotlight videos - Hawaii State Federal Credit Union
Challenge: The HSFCU team was concerned about launching a new intranet platform that had never been seen or explored by employees.
How they did it: They needed a fun and engaging way to get people excited and decided to make a series of three "teaser" videos about the new intranet and how it would solve a few common problems the team was experiencing.
The outcome: The videos piqued everyone's curiosity and contributed to quick adoption and consistent high use rate. Read more about the positive impact of their Jostle intranet in this case study.
Contrast the old with the new: Community First Credit Union
Challenge: Community First were unsatisfied with their previous intranet and wanted a tool that would engage staff, increase functionality, and provide a search-friendly knowledge repository.
How they did it: Their Jostle User Group starred in two pre-launch videos. The first spoofed staff concerns with the old intranet. The second touched on the benefits of their new intranet. The videos were capped off with a fun-filled launch day with cake, scavenger hunt, and prizes.
The outcome: A phased pre-launch followed by a launch day celebration increased awareness and made the introduction fun and inclusive for the long-term.
Roll out the red carpet: Milgram & Company Ltd.
Challenge: The Milgram team wanted to focus their launch around their greatest asset: their people.
How they did it: First, a pre-launch with Jostle Ambassadors to educate the company about the platform. Second, a launch party complete with red carpet, buffet lunch, photo booth, and cakes. And finally, walk-through sessions to educate employees further about the platform.
The outcome: The three-tiered launch was met with an overwhelmingly positive response. With people at the forefront, Milgram continues to drive their corporate culture via their intranet on a daily basis.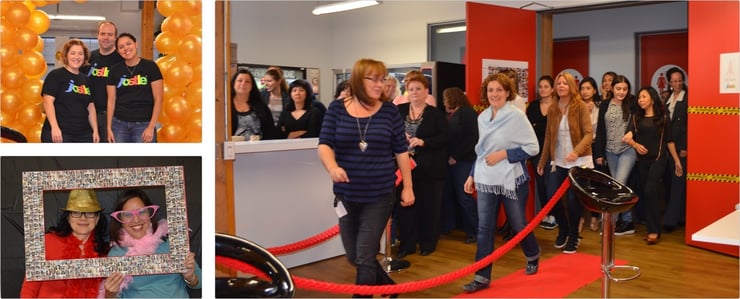 Fun and games: Universal Technical Resource Services, Inc. (UTRS)
Challenge: UTRS were looking for a way to bring their workforce together through their new user-friendly and modern intranet.
How they did it: Fun and games were the order of the day for the UTRS launch. They planned a "Hollywood Squares"-like game called "Jostle Squares", that UTRS employees played using the Jostle intranet mobile app, and created a branded backdrop for photographs, along with delicious food.
The outcome: The treat and game-filled launch party was a great way to get employees to band together into teams and learn about the platform in a fun and engaging way.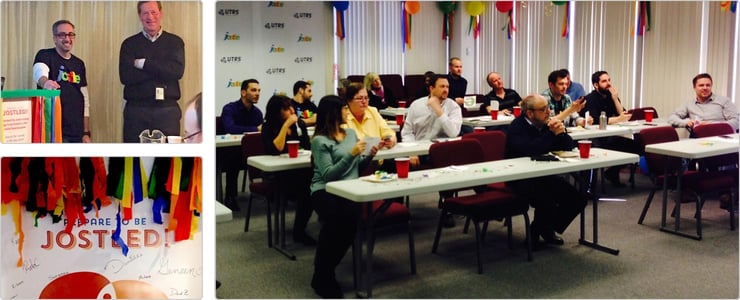 Set the right tone with your intranet launch
Tailoring your intranet launch event to play up your organization's unique culture and energy is the key to making it a success. The tone you set at launch will also set your organization up for success and long-term engagement right off the bat. The companies in our Coolest Launch Asset awards category were diligent in making sure that their launch strategies were fun and informative, and made people genuinely excited about using and adopting the platform.
Want to see more amazing customer stories?